She Was A Skater Girl: Why Skateboarding's No Longer A Boy's Game
Anything boys can do girls can do better (or equally as well), especially when it comes to skateboarding.
While females doing kickass things isn't groundbreaking news, there's a new wave of female skaters who are shaking up the industry.
All-girl skate crews are finally getting the same opportunities and recognition as their male counterparts, and the fashion industry is taking note.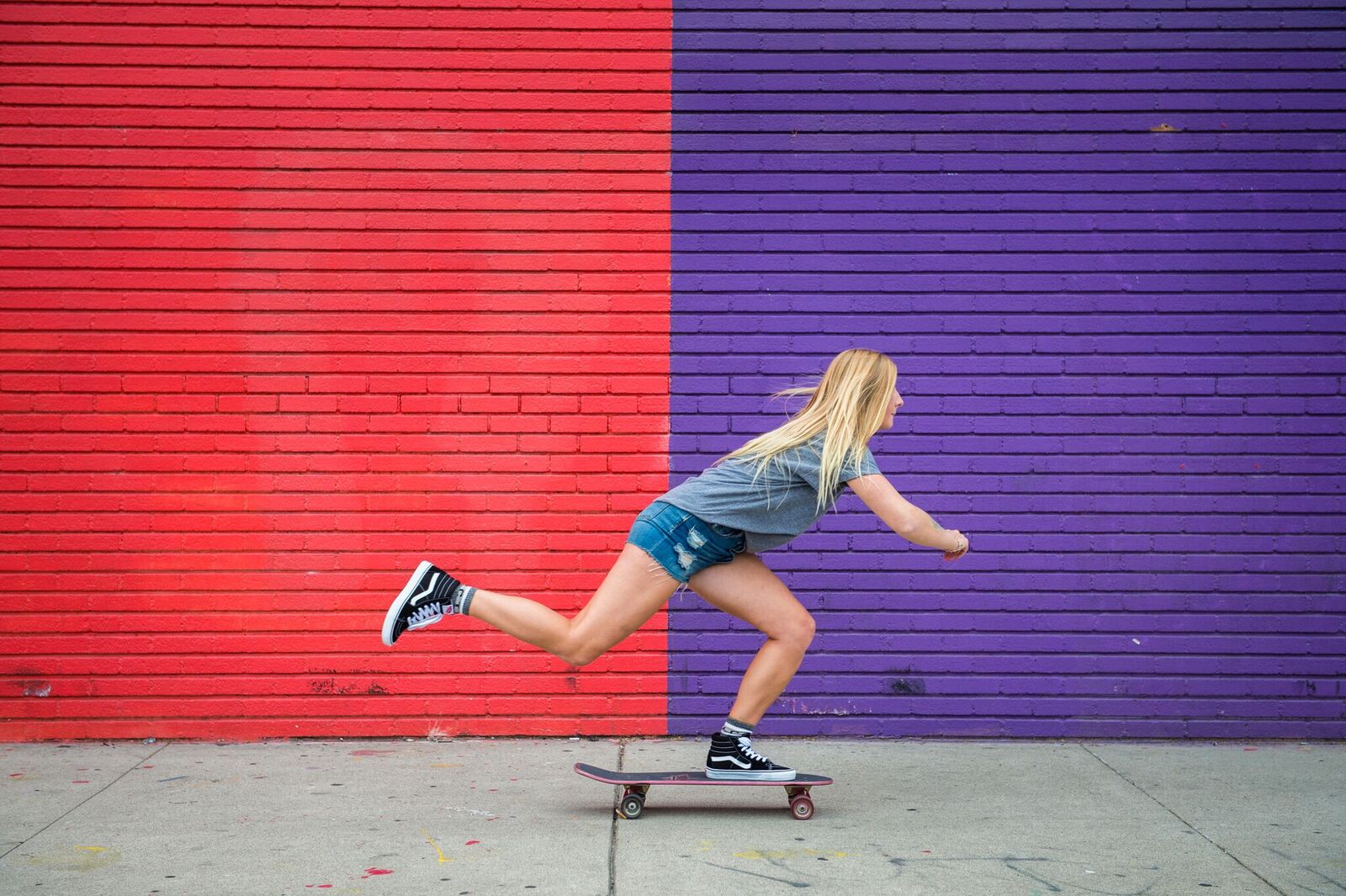 From Miu Miu's skateboard-inspired fashion campiagn, That One Day to Vogue's Skate Week editorial, skatewear is fashion's favorite look of the moment.
While fashion houses are swooning over logo T-shirts, low-slung jeans and slip-on sneakers, charities such as SkatePAL, Skate Like A Girl and Girl Is Not A 4 Letter word are all proving that there's more to the conversation than just clothes.
Talking to the experts, we've helped track skateboarding's rise to fashion's next big thing and pinpointed some of its key moments.
1. There's no smoke without fire
The fashion industry's adoption of skateboarding culture is largely due to the female skaters who have been championing the sport to the mainstream masses; and no one has done this more than Cindy Whitehead.
A professional skateboarder from the age of 16, Cindy officially retired from the sport at age 22 to begin work as a stylist.
In 2013 she launched her own female skate brand Girl Is Not a 4 Letter Word, focused on empowering girls in the skate scene.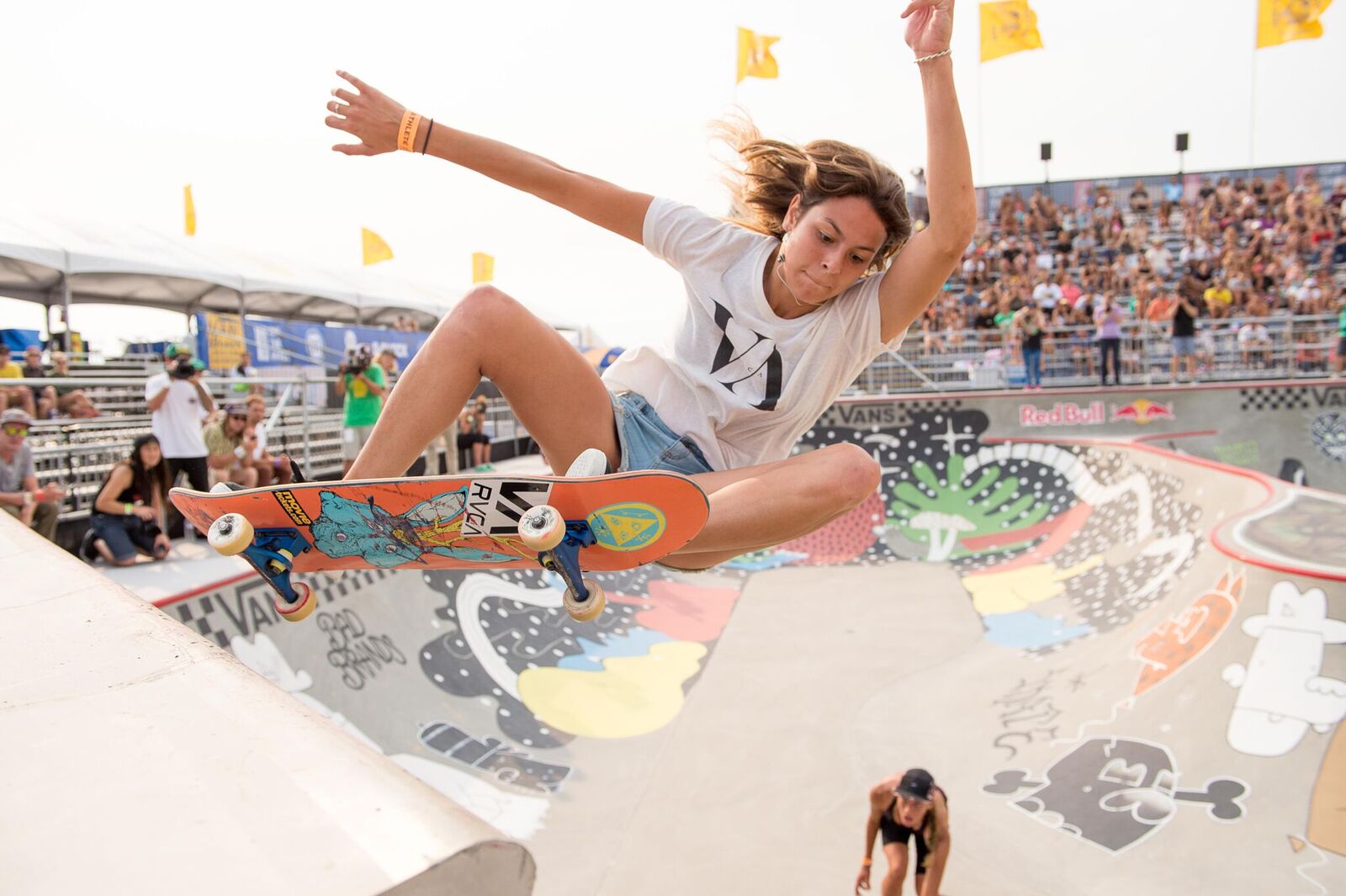 Author of the book It's Not About Pretty, which showcases women in skateboarding across the globe, Cindy consistently promotes female athletes on her blog.
"Girls realize that they are "not the only one" and they can do this" - Cindy Whitehead.
Next up, Girl Is Not a 4 Letter Word is publishing Concrete Girls by photographer Charlotte Thomas - this will be the first book ever published on the UK female skateboarding scene. Cindy tells us "girls are starting to skateboard more and more by seeing female skaters featured in everything from skate mags, to fashion mags".
The momentum built by this coverage is quickly getting the fashion industry's attention. Most noticeably is Miu Miu's short fashion film, That One Day, which features New York skate crew, The Skate Kitchen.
Cindy believes "the more we see skateboarding's influence in mainstream photos, magazines [and] commercials, the more the general public gets exposed to skate culture". This cycle is helping propel both skate culture and its fashion into the spotlight.
2. Community growth
With reported growth in participation amongst young girls, pockets of unlikely female skating communities are popping up all over the globe.
Big brands are taking note, such as Vans whose recent campaign aims to promote female empowerment in India.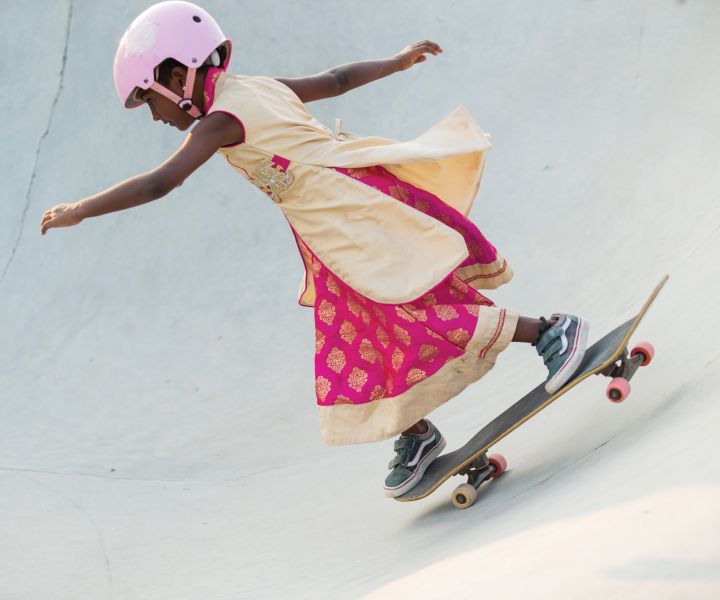 Titled 'Girls Skate India', Vans has released an online series following female skateboarders and launched 100 global skate clinics teaching women and girls how to board.
Global NGO SkatePAL has paved the way for brands like Vans to recognize female skate communities. Their work building skateparks and providing lessons to young people across the West Bank is being picked up on a global scale.
Charlie Davis, SkatePAL's founder, tells us that "There have always been female skaters, but now that more are getting involved, and the level is increasing it is exciting to see how skateboarding is becoming less male-dominated".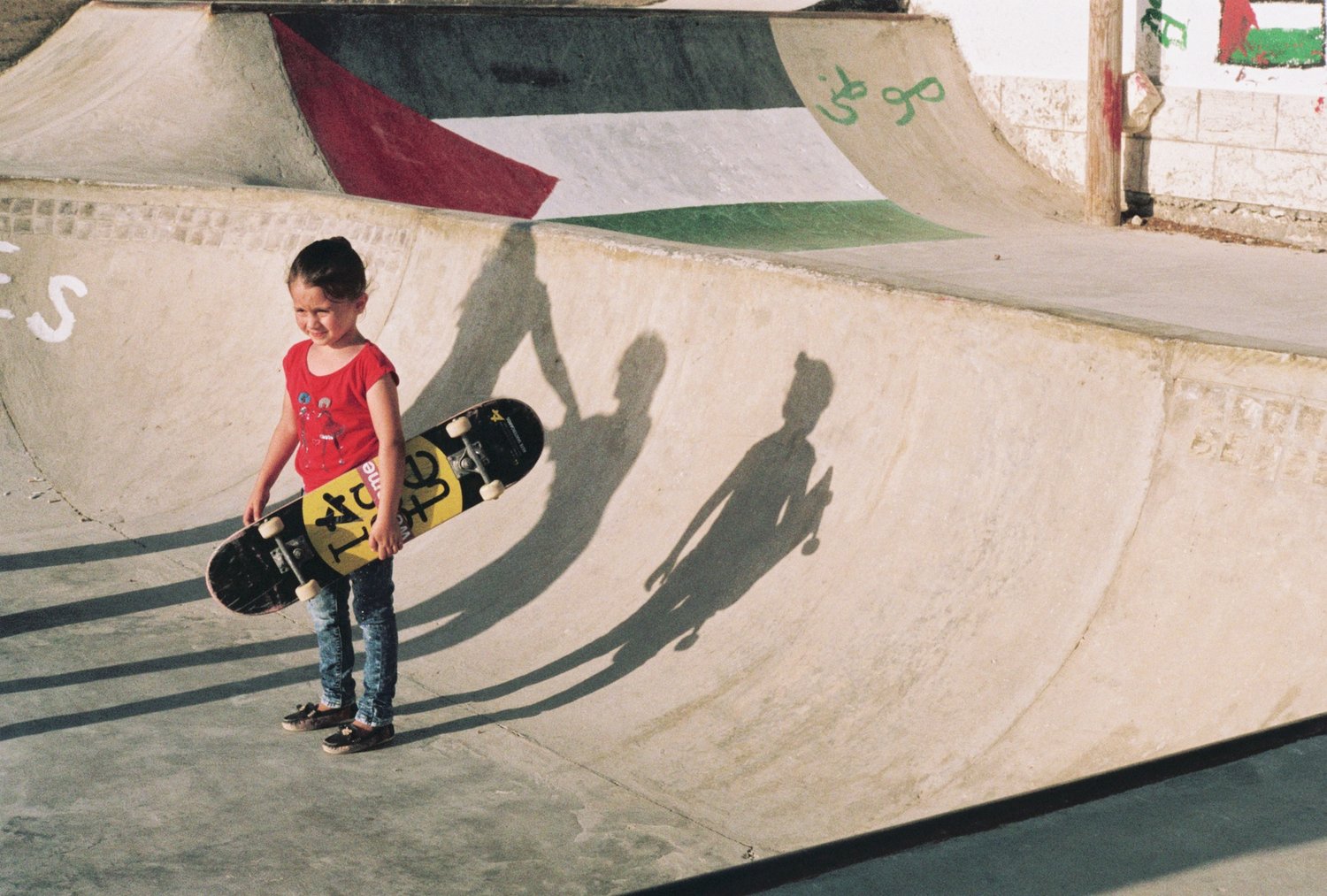 Davis continues to explain that "when a skateboard scene is made from scratch...there is a fantastic opportunity to introduce it as a sport for both girls and boys. The rise of skateboard charities...has led to parks in remote areas which see a much higher rate of female participation than back in the USA.".
Skatepal is opening it's third skate park in Jayyous, a small Palestine village this spring.
3. Breaking the bubble
With community growth comes individual exposure and the female talent that has always existed under the surface of skating is bubbling over as it finally gets picked up on a bigger platform.
Brands like Nike are bringing new levels of exposure to the scene with the release of the Bruin High sneaker last year and an all-female campaign fronted by pro skaters such as Lacey Baker.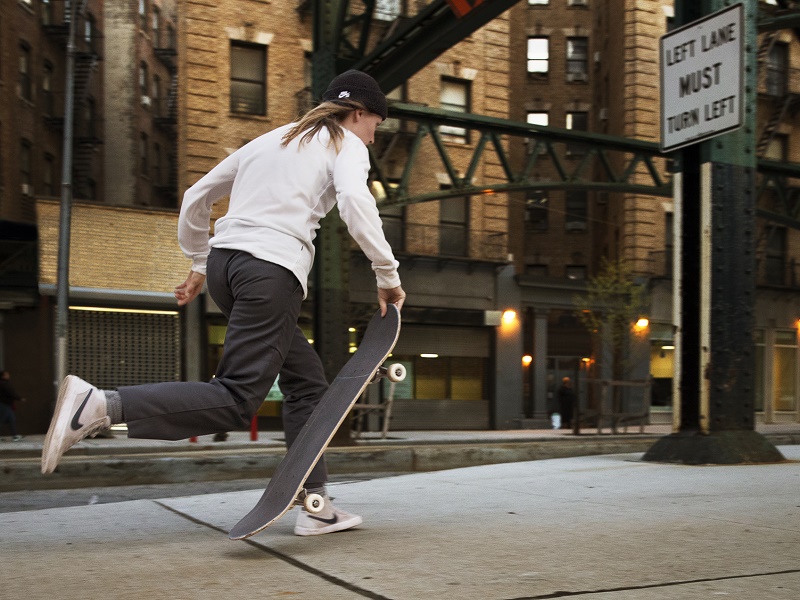 None of this change would be possible without the Internet and social media, which has helped female skaters feel both accepted and find their tribe.
Two community groups that have recognized this change and are helping to do just that are Girl Skate in the UK and Skate Like A Girl in the US.
"Social media has been a huge factor...we now have a way of connecting [skaters] across the globe" - Danni Gallagher, Girl Skate UK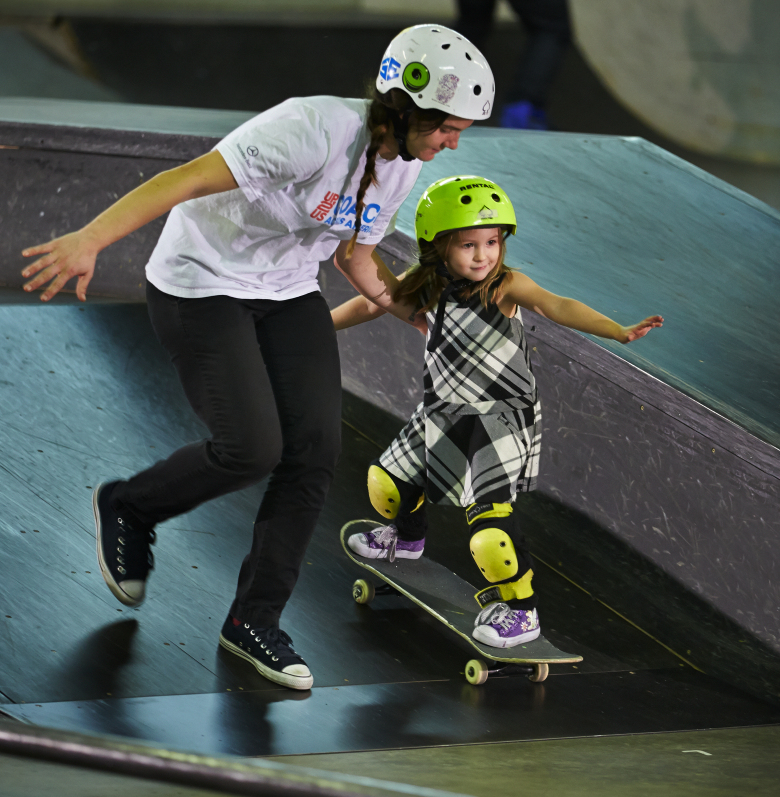 Girl Skate UK is bringing British women together for regular skate jams and events, while Skate Like A Girl is helping US communities to create more inclusivity in skateboarding.
Kristin, Skate Like A Girl's Executive Director, attributes much of the change down to "non-traditional skaters" who are leading the charge" with groups such as The Nefarious crew in the UK and the Rad Girls Krew in Colorado (a downhill crew who race at 50+ miles per hour on mountain roads) leading the charge.
Get the look
In so many ways, it seems that there's never been a better time to be female, to own a skateboard and to celebrate skate culture's influence on fashion.
We've tracked the key skate trends that have got you searching on Lyst this year.
From big names like Vans, to small independent companies like SEX Skateboards, read ahead to get the look.
Logo pieces
Every so often counter-culture symbols cross over into the mainstream (who could forget the Thrasher T-shirt of 2016), and 2017 was the year that brands went logo mad.
Among the most wanted were Gucci and Balenciaga, we also saw increased searches for brands such as Palace, Supreme and Dickies.
Retro sports brands Champion, Fila and Kappa made a huge comeback with a collective increase of 460% since last year.
Elevated streetwear
Skatewear has now become streetwear, worn by everyone including the HD (Hipster Dad) brigade, who can afford it.
Cult items by Off-White, Balenciaga and Vetements were among the most wanted fashion pieces of 2017.
Vans Old Skool
We've seen searches for Vans' most iconic styles such as the Old Skool increase by 48% from last year.
In March alone, someone searched for Vans sneakers once every twenty seconds.
Low-slung jeans
Skate Jeans were the ultimate 90s uniform and have been brought back into mainstream consciousness by celebrities such as the Hadid sisters, Emily Ratajkowski and Rihanna.
Searches for skater jeans increase by 60% from last year, with styles from Saint Laurent, Levi's and Off-White are among the most popular.